As a city with a strong beating musical heart, Brighton has given to us a very fine alternative festival to the 'plastic-bag-around-the-feet, beer-swigging-in-the-mud' type of fiasco that we have come to typically associate as the archetypal British festival, and that is of course Brighton's Great Escape which takes place next weekend from Thursday, May 19th to Saturday the 21st.  Showcasing new, emerging and fundamentally exciting acts, the festival gives you more substance for your money rather than forking out £10 for a pint of piss to watch recycled dub-step at Reading and Leeds.
Here's the best part though… What if I told you there was an alternative to the alternative…? Call the cops, this just got real. For those of you who have been to the festival over the last few years you will of course know that I am referring to the Great Escape's younger – and ambitious little brother – the Alternative Escape, a parade of cheap and/or free shows that take place around the city across varying venues.
Our friends here in Brighton over at Acid Box Promotions have teamed up with Southsea's D.I.Y warriors, Strong Island Recordings to bring us an extended showcase party which gives the even more leftfield fans (or simply just those who can't afford the Great Escape ticket), a chance to catch some awesome, loud and engaging bands who are gracing the stage from all over the world.  Set in Brighton Youth Centre, the theme of the evening will very much be cranked up guitars with plenty of feedback, distortion, tremolo and all those other things that make us feel a little hot under the collar.  However the bands certainly aren't one trick ponies, they know how to rock but they also know how to throw a few spanners in the works.
First on our radar for this show is the eclectic sounds fashioned for our pleasure by Flamingods, a group moulded from people of London and Bahrain who arrive into town mid-tour meaning that their psychedelic engines will be well geared up satisfy our souls.  The group, who collect instruments from around the world take the idea of collage in music and utilise it beautifully, managing to create a mirage of sounds that are classy, sexy, intriguing and weird all at the same instant.  Imagine Anton Newcombe, Femi Kuti and Andrew Weatherhall having an almighty, drug fuelled jam, and you still wouldn't imagine the music these guys are coming up with.
***Listen to their vibes here***
**Or wet your whistle here**
Next up are Hockey Dad from New South Wales, Australia.  In what should provide some respite from the wall of brooding sound created by the excellent and loud productions of some of the evening's other acts. Hockey Dad sound like they have just come from the parallel universe of Post-Punk circa 1981 because these guys play punk/noise-pop with a message that tell us that it actually is OK for this style of music to be upbeat.  Beer in your hand, wiggle your ass to that rhythmic guitar strumming type of music, and of course wave those long locks baby.
***Check 'em out***
Lastly we have to mention one of those bands who regularly like to flicker their eyelids down here in Brighton, only to then get off the next morning and 'attend more important matters' such as their fans in other cities… Demob Happy.  Songs like 'Junk DNA' contain chunky riffs that lure you in slowly, revealing the seeds of their softer side only to resolve by interrupting the flow with an even louder, more bad-ass grooving bass or guitar riff that rightfully and shamefully puts you back in your place for even thinking that these guys were gonna do anything else other than blow your socks off.  A band that locks together perfectly elements of grunge, indie, pop and alternative rock with such arousing spirit is an expedition not to be missed friends.
***Burst your eardrums over here***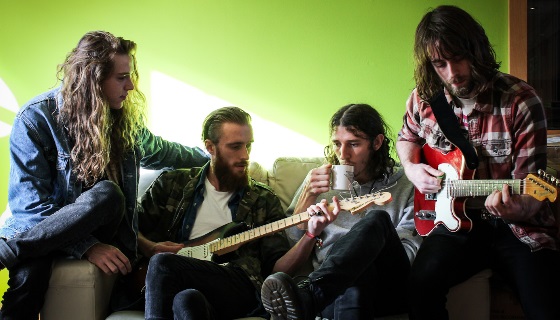 Tickets to Acid Box & Strong Island Recordings Present: Alternative Escape Showcase can be found on the following outlets (see below), tickets are £5 with an additional 50p booking fee.
http://www.seetickets.com/event/official-alternative-escape-showcase/brighton-youth-centre/983015
http://www.wegottickets.com/event/360650
BUT WAIT – THERE'S MORE… COME THIS WAY…
As this fantastic showcase takes place on Saturday here is our pick of the bunch from Thursday's offerings as well as Friday's.
Thursday:  Karousel Music & Help Musicians UK Presents @ the Marlborough Theatre
Timings: 6 – 11pm
How Much…? Free
Be sure to check out the haunting bluesy memoirs of Pat Dam Smyth, the atmospheric cries streaming from Ports and some mellow folk fusions from Samantha Whates.  Perfect for a quiet night out if you have to get to the office the next morning, yet we must warn you that the music is of such high quality that you may expect not to get to sleep having being so elegantly seduced into wanting to hear more.  Big shout-out to Help Musicians UK, a charity who are making events like this possible, be enabling it to be free entry for fans whilst paying the artists a fee for performing.  Exactly the spirit of the festival.  More in-depth analysis of the night can be found here.  Whilst the Facebook event can be accessed on all good, reputable internet browsers, shock horror!
Pat Dam Smyth
Friday:  Hand in Hive and When the Gramophone Rings present NEXT BUZZ @ The Mucky Duck
Timings: 7pm – 1am
How Much…? Free
Down in the Mucky Duck on the Friday, fans of Warpaint/Foals/Haim will be delighted to rejoice in the pop sensibilities of London's Saltwater Sun, who will be joined by dream –pop aficionados Swimming Tapes, the shimmering vocal and synth combinations of Wyldest as well as EAT FAST who will be sure to bring to the night to a lo-fi, fuzzy and hazy end with their brand of swelling garage-rock.  This night will guarantee a feel-good, optimistic vibe that you can take with you into day three of the festival and for the rest of the summer.  Check out the event page for more info.
EAT FAST twisting your melon man
Feel free to check out our playlist featuring some of the finest offerings from the weekend on our SoundCloud page below.
Words by Robbie Cully